Prozorro.sale
Find information about OpenProcurement-based ProZorro.sale project in Ukraine.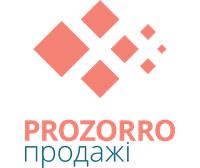 Prozorro.sale is a Deposit Guarantee Fund (DGF) system that organizes sale of insolvent bank property and non-performing loans. While in ProZorro the buyers is state-owned organisations, in ProZorro.sale they are always suppliers, and the buyers are private entities.
What at sale?
Two types of lots can be sold within ProZorro.sale:
insolvent bank property;
non-performing loans.
What is a non-performing loan?
Any loan that is logically expected to enter default can be considered a non-performing loan. So, it is a sum of borrowed money upon which the borrower has not made any regular payment for at least 90 days.
Why so advantageous?
Having the OpenProcurement toolkit in its core, ProZorro.sale is a "hybrid model" e-procurement system. Central database (CDB) and electronic platforms are connected to let each participants of a procurement process access all tender data from any platform.
What auction types?
In contrast to ProZorro, where a common goal for all auctions is decreasing the lot price, in ProZorro.sale it is vice versa: to increase the price as much as possible.
It is achieved with two types of price-ascending auctions:
the English auction;
the Insider auction that consists of three stages: Dutch auction, Sealed bid and Best price.
What's the difference between ProZorro and ProZorro.sale?
Mainly it lies in projects' goals. While Prozorro aims at purchasing items for the lowest price, Prozorro.sale is interested in selling assets for the highest price. This means that ascending auction should be used in order to increase profit from assets sale.
The toolkit's code has been altered to accommodate DGF sale procedure specifications, for example, English auction, Insider auction, based on Dutch auction, rounds timeframe, additional document types, classificators, registers, etc.
What Data Standard?
OpenProcurement's Data Standard (developed on the basis of Open Contracting 1.0RC) was extended to fit Prozorro.sale project requirements. The toolkit's code customized for this project is open source and can be viewed on Github: openprocurement / openprocurement.auctions.dgf. The documentation is available in English and Ukrainian.
Awards and recognition
2018
On February 27, 2018, ProZorro.Sale won "The Shield in the Cloud Innovation Challenge" anti-corruption award from C5 Accelerate and USA Institute of Peace and received a worldwide recognition as the best anti-corruption startup in public administration.
The award is given to projects with significant anti-corruption effect that can become an example of success to follow in other countries. Only within a year ProZorro.Sale managed to fundamentally change the public procurement sector in Ukraine.
2017
On June 13, 2017, ProZorro.sale won in the demo-days of the Citi Tech for Integrity Challenge (CitiT4IChallenge) anti-corruption startups finals held in Hyderabad, India.
T4I is a global program from leading bank Citi that encourages startups worldwide to build solutions for the public sector. In total, 103 projects took part. Winners receive the support of the CITY in the implementation of the project worldwide.